Create a Department of Peace
Should our government spend over half of our taxes on war and the military and less than 5% on the Department of State and other peaceful programs? If you would like to see your taxes spent on a Department of Peace, tell your Congressional representatives to support HR 1111, the bill to establish a Department of Peace, with a cabinet level Secretary of Peace.

There are currently 224 signatures. NEW goal - We need 300 signatures!

PETITION BACKGROUND This petition is an effort to turn our nation away from its path of perpetual war and toward other options for conflict resolution. It is also a response to the increased level of violence in our own communities, schools, and prisons. I often feel personally powerless to affect change in these trends toward greater violence, but this bill gives me hope for a voice of peace in Washington.

Sign the Petition to Create a Department of Peace
Restorative Justice Massachusetts! Support SB-71
Why Restorative Justice Matters
Higher satisfaction rates for victims vs. to those proceeding through tradional court (89% vs. 57%)

Reduced recidivism for offenders (16% vs. 39%)

Cost Savings (Initial state and national studies demonstrate that restorative justice is nearly six times more cost-effective than traditional justice methods).

More options for police/court personnel when responding to crime (a greater breath of victim services).

More meaningful role for affected community members in addressing crime/harm in their neighborhoods.
I am writing in support of SB 71: An Act Promoting Restorative Justice Practices, Lead sponsor-Sen. Jamie Eldridge. The bill is slated for a hearing June 16th, 2015 on your committee.

This bill would open the door for healthy, efficient, money-saving restorative justice practices to be used in our juvenile and adult criminal system.

Restorative justice approaches across the nation are showing a 50% and higher drop in recidivism, and high satisfaction rates among victims, offenders, communities, and officials within the law enforcement and corrections fields. Report from Sen. Eldridge's office .

Massachusetts stands ready to be a pioneer in an emerging national trend toward cost-savings and community-healing through restorative justice. Significant support for this bill comes from the Massachusetts Major City Police Chiefs, 12 other police chiefs, judges and many community groups across the state: List of Supporters

We spend on average about $50,000 per year, per inmate, to keep someone in jail - and there is no single factor more determinative of incarceration than a prior incarceration.

Restorative justice looks at all crime as a violation of relationships involving families, communities, relationships and feelings. It asks: what harm was done to whom? How can the harm be repaired? Who is responsible for the repair? It nips criminal activity in the bud more effectively than incarceration, and provides a more healing and thorough response to those who have caused harm and those harmed.

Please give your full support to this important bill.

Molly Rowan Leach
Restorative Justice Fellow
The Peace Alliance

MORE ABOUT RESTORATIVE JUSTICE
Restorative justice refers to processes derived from indigenous people to redress wrongdoing and bring people back into right relationship. It brings together the people most directly involved and members of the community to explore what harm occurred and what needs to be done and by whom to repair the harm to the greatest extent possible. Harm needs to be repaired for the person(s) most directly harmed, the community, and the person who caused the harm. It can be helpful to frame the repair of harm to the person who caused the harm in terms of what will assist him or her to make future choices that meet the need without harming self or others.

There are many variations on restorative justice processes that are called by names such as peacemaking circles, healing circles,community accountability boards or panels, council process, etc. One good measure of whether or not they are restorative is their adherence to the principles and values of restorative practice (see below).
Restorative Practices
Restorative practices is an umbrella term that refers to a wide range of activities that derive from restorative justice. They are all alike in that they adhere to a basic set of principles and values as expressed in the 5 R's (Relationship, Respect, Responsibility, Repair and Reintegration) and are generally characterized by the use of a facilitated, circle talking process. The use of restorative language by school staff and in school discipline policies may be considered practices also, though they don't involve a circle process.

Restorative practices may be used to increase connections among people and enhance empathy or to resolve conflict and redress grievances and provide accountability for wrongdoing. When the practices are used to address the violation of a law or school rule, it is restorative justice. What connects all of the practices under the term "restorative" is that they focus on establishing or re-establishing harmonious relationships among people.
"I have seen first-hand the positive effect that restorative justice programs have had on victims, offenders, and our community.... It affords offenders an important opportunity to understand...the true impact of their actions on victims and community." - Marian T. Ryan, Middlesex County District Attorney
"This legislation helps offenders break out of the cycle of crime through acts of community service and offers victims the opportunity to receive an explanation and apology from the offender." - Sen Jamie Eldridge (D-Acton)
"The courts are overworked. If all the parties can get some satisfaction using something less elaborate, let's go for it. Judges and other court officials would welcome the change." - Sen Mike Barrett (D-Lexington)
"As a police officer, I was a skeptic. But I quickly became a believer. I've seen this process work." - Chief Robert Bongiorno, Bedford Police Dept.
"Restorative justice is a great resource for community members interested in resilience and wellbeing after harm." - Hon. John Cratsley (ret.)
U.S. Department of Peacebuilding Re-introduced
Did you see the news? Legislation to establish a U.S. Department of Peacebuilding was re-introduced into the U.S. House of Representatives as HR-1111 in February. Sign the petition to Congress. Let them know you want their support. More details are below.

Thank you,
Bob Baskin

Tell Congress today that you want them to co-sponsor the Dept. of Peacebuilding and make peace one of our nation"s top priorities!

Sign the Petition to Congress

Contact your State Senator to co-sponsor HR-1111, at this time Senator McGovern is the only signee of our 9 senators. Massachusetts Congressional List
Teaching Peace in a Violent World
Speaking Peace, 01 Feb 2014
Tell the President: Support Dept. of Peacebuilding & Office of Peacebuilding
We are calling on the President to support the establishment of a U.S. Dept. of Peacebuilding, and interimly, an Office of Peacebuilding, in his administration. We all recognize the challenges of violence are profound in our culture. It is time for a full-scale approach to dealing with it. Join us as we call on the President to take a big step towards creating a lasting peace in our nation and world. - The Peace Alliance.

Make calls to your Representative to co-sponsor again. All MA Reps. did, in 2010
Support, plus the Hearing, may bring passage of HR 1318 this year!

See Districts for a list of Massachusetts Representatives.
The Youth Promise Act

The Youth PROMISE Act (H.R. 1318) is bipartisan legislation that will give our communities the support and funding they need to effectively address youth violence issues. By specifically focusing on violence prevention and intervention strategies, this bill ensures we are funding programs that save lives and give every young person the opportunity to meet his or her potential.



Beyond the mass shootings that are justifiably getting so much attention right now, many of our own neighborhoods across the nation are essentially war zones, in which children are faced daily with horrific levels of homicide and violence, and suffer the same kind of post-traumatic stress as our soldiers returning from war.

We believe the Youth PROMISE Act will help greatly in meeting this challenge, empowering communities by building on local strengths to invest in what works to prevent violence with our youth. The Act makes an unprecedented investment in evidence-based, locally designed and run prevention & intervention practices that engage and divert at-risk youth proactively.

Our youth deserve to know that we have their backs. Please show your support for the Youth PROMISE Act!
Important:
Youth PROMISE Act - Contact Your Members of Congress!
Tell your member of the House of Representatives and your Senators that you want this proposed legislation to become law. Ask them to co-sponsor the Youth PROMISE Act, H.R. 1318. Fill out the form below to send a message. Include your own words for the most impact.


http://salsa.democracyinaction.org/o/696/p/dia/action/public/?action_KEY=2215

--------------

Department of Peacebuilding

26 Feb 2013
Dear MA Campaign:
I am forwarding exciting news – an announcement from The Peace Alliance (TPA) concerning the Feb. 15 introduction of a Department of Peacebuilding Resolution by Rep. Barbara Lee (CA-13)! It is similar to the Resolution introduced by Rep. Dennis Kucinch, in every Congressional session since 2001; it is still HR 808, and will soon be available at http://house.gov/ . the link in the Action Alert to ask your Representative (who may be new to your town or city, following redistricting!) to co-sponsor the Resolution. Congressmen McGovern and Markey are the only MA Representatives who have co-sponsored HR 808 at this time. Thank them!!
For more peace,


The US Department of Peacebuilding
15 Feb 2013 - California Congresswoman Barbara Lee and seven co-sponsors introduced bill to create The Department of Peacebuilding Act of 2013. The term "peacebuilding" refers both to activities that target the root causes of violence as well as the broad measures used to prevent violent conflict and create sustainable peace.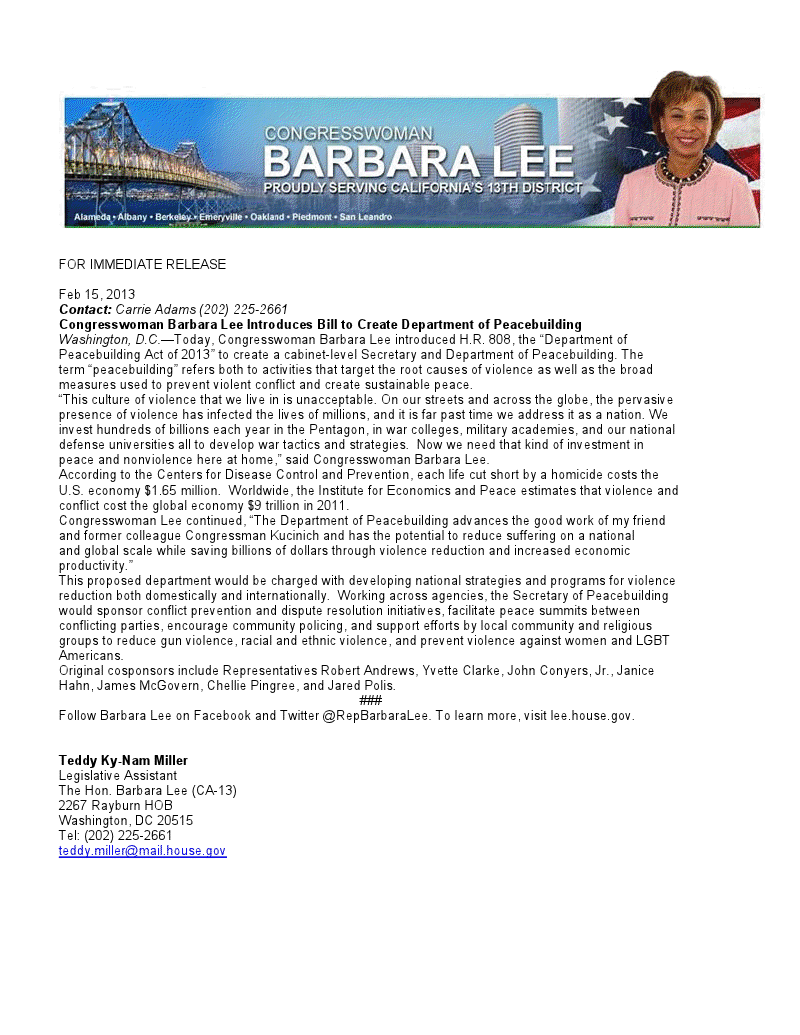 Former Actions
The People's Convention
You are invited to join
THE PEACE ALLIANCE/ CAMPAIGN FOR A U.S. DEPARTMENT OF PEACE AT
THE PEOPLE'S CONVENTION
Charlotte, North Carolina - September 4, 2012 - 8:00 am to 5:00 pm
Location is Community Outreach Ministries – 1800 Brewton Drive – Charlotte, NC
During the National Democratic Party Convention
Cong. Jim McGovern will be at The People's Convention, as will a CA member of The Peace Alliance Dept. of Peace Legislative Committee, which consists of 5 State Coordinators, including Pat Simon.


Now More Than Ever
Published on July 11, 2012 by DJKucinich
"Eleven years ago today, I introduced legislation to establish a Cabinet-level Department of Peace and Non-violence. Since July 11, 2001 our nation has experienced the tragedy of September 11th, sent thousands of troops into the Middle East to fight wars, and continued to witness heart-breaking events that the bullying epidemic has caused in our schools such as deadly school shootings and an increasing number of suicides among our nations young people. It is clearer now, more than ever, that we must embrace a Department of Peace as a way to address not only violence in our schools but the violence that exists in our homes, workplaces and institutions throughout our communities both nationally and internationally.

"I believe that the government has a responsibility to create an organized approach to address issues of violence in our society. That is why I have continued to introduce the Department of Peace and Nonviolence Act in every Congress since 2001. This legislation seeks to make non-violence an organizing principle in our society.

"A cabinet level department would look at root causes and endeavor to find preventive solutions that are both dynamic and comprehensive. H.R. 808 would establish a Secretary position to advise the President on peace-building strategies in times of international conflict. It would establish a Peace Academy to provide instruction in peace education, and offer opportunities for graduates to serve in programs dedicated to domestic or international nonviolent conflict resolution. It would also provide funds to support and expand domestic programs that provide training in known best-practices such as mediation, alternative dispute resolution techniques, and nonviolent communication programs in our public schools and in the public sector workforce.

"Today, on the eleventh anniversary of the introduction of the Department of Peace and Non-violence legislation, I ask that we challenge the reflexive war-as-conflict-resolution mindset that our country has adopted. Isn't it time that we end our nation's reliance on weapons and war? Isn't it time that we make a commitment to more peaceful methods of conflict resolution? Isn't it time that we each make our own personal commitment to living a life of nonviolence?"

See video presentation
'11th Anniversary of Department of Peace'
During the 20th Century, over 100 million people lost their lives to war -- most of whom were non-combatants. Now, at the dawn of the 21st century, the extent and current speed of nuclear proliferation makes the achievement of non-violent alternatives to war the most urgent need of the human race.
See 'The Campaign for a U.S. Department of Peace'
Department of Peace Campaign Evolution Summary
(A Collaborative Statement Prepared by the DoP Legislative Action Committee and The Peace Alliance Staff and Board)
Congressman McGovern has co-sponsored HR 808 again, Thank you Dennis and Jim!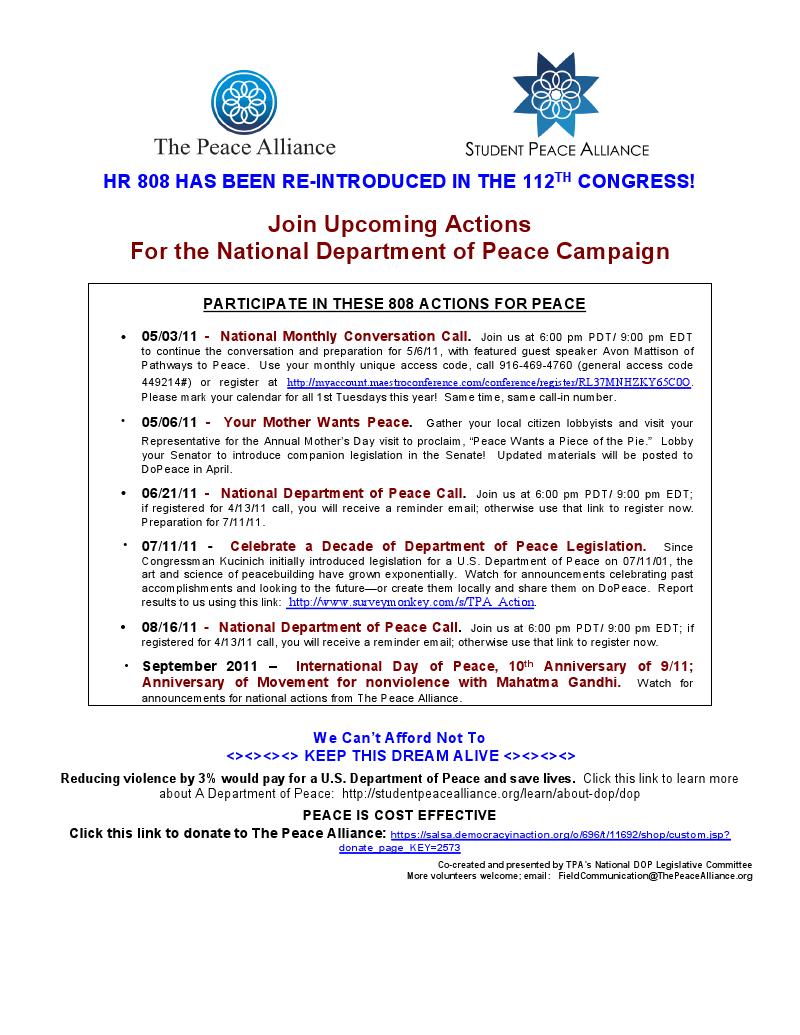 Youth Promise Act Benefit
in Acton, MA 19 Sept 2010
We will gather at the Action Jazz Cafe to talk about what peace looks like!
State Sen. Jamie Eldridge will bring a Resolution to support the Youth Promise Act for the MA Legislature!
Tina Cherry wil the describe the Louis D. Brown Peace Institute's mission of empowering families impacted by violence.
We'll hear about workshops with prison immates, who are learning skills in AVP (Alternative to Violence Project).
And
Jazz musicians
will warm our souls and build peace. See
Flyer
Massachusetts Campaign Projects
The MA Campaign is focusing on the DOP with Representative Niki Tsongas, 5th District.
Representative Markey has promised to write a Dear Colleague letter to the 7 Reps in MA who have not cosigned the DoP Bill
Waltham Mayor Jeannette McCarthy will write a Peace Proclamation in time for this year's International Peace Day. Perhaps we will ask her to move it up to Mother's Day.
See this year's agenda for the SPA Conference in Texas at the PA Web Site. Click on agenda to get the fabulous program of the conference. Very nice, professional and elegant. [
See Student Peace Alliance Conference Agenda
]..

New

Department of Peacebuilding Act of 2013

Congresswoman Barbara Lee introduced
H.R. 808
, the "Department of Peacebuilding Act of 2013" to create a cabinet-level Secretary and Department of Peacebuilding. The term "peacebuilding" refers both to activities that target the root causes of violence as well as the broad measures used to prevent violent conflict and create sustainable peace.
Thank you Representative McGovern and Representative Markey for co-sponsoring H.R. 808. Ask your Representative to be a co-sponsor!. See the
Districts
section below to contact your Massachusetts Representative.
Non Violent Communications
John Kinyon, CNVC certified trainer, shares what NVC means for him. He will be one of four trainers at the 2009 New York Intensive Residential Training in Nonviolent Communication. [
See Link
]
Costa Rica Creates Department of Peace
On Monday, September 14, the Costa Rican legislature passed a law [1] changing the name of the country's justice ministry to the Ministry of Justice and Peace, making the department the first of its kind in Latin America and only the third in the world.
Costa Rica's justice ministry was created to oversee the country's penitentiary systems and supervise research on criminal behavior, but had no responsibility for crime prevention [2]. A 1998 executive decree addressed this lapse by creating the National Directorate for the Prevention of Crime. The recent legislation takes crime prevention in a new direction, replacing the old directorate with the newly formed Directorate for the Promotion of Peace and the Peaceful Coexistence of Citizens.
[
See Link
].
Walter Cronkite Discusses the Merits of the Department of Peace
View the Cronkite/Kuncinich interview at the 2005 Conference on the merits of a U.S. Department of Peace
[
See Link
].
Youth PROMISE ACT Congressional Hearing
A Historic Success!
WASHINGTON - 16 July 2009 - Two national Student Peace Alliance leaders were present in the Hearing, and Aaron Voldman, Director, made a statement in the Press Conference! This may Pass before the August recess! [ See Link ].
The Peace Alliance - New Legislative Initiative - Annual Mothers' Day Action

The Youth PROMISE Act

The Youth PROMISE Act, introduced into the U.S. House by Bobby Scott (D-VA-03) and Congressman Mike Castle (R-DE) and in the Senate by Robert Casey (D-PA) and Olympia Snowe (R-ME), implements the best policy recommendations from crime policy makers, researchers, practitioners, analysts, and law enforcement officials from across the political spectrum concerning evidence and research-based strategies to reduce gang violence and crime. The Youth PROMISE Act is a bold plan for addressing youth violence in all sectors of society by delivering funding to programs on the ground effectively doing the work of youth violence prevention. Read this online link The Peace Alliance


Actions



We are lobbying our Massachusetts congressmen to support HR-808, the House Resolution 'To establish a Department of Peacebuilding' filed by Representative Barbara Lee of California. View Gov Track for HR 808.

Click on Show under Co-sponsors to view the bill's Co-sponsors list Congressional Representative contact information is available at the Districts section on this MADOP web page.
Two (2) Massachusetts representative have co-sponsored H.R. 808 to date.
Please send your a message to your congressman requesting support for a new U.S. Department of Peacebuilding. Click here for an example letter that can be personalized. Dear Congressman...
Youth PROMISE Act
Our commitment to our nation's most vulnerable
On Friday, February 13, 2009, Congressman Bobby Scott (D-VA-03) and Congressman Mike Castle (R-DE-AL) re-introduced the Youth Prison Reduction through Opportunity, Mentoring, Intervention, Support and Education, or Youth PROMISE Act. Companion legislation was also introduced in the US Senate by Senators Robert Casey (D-PA) and Olympia Snowe (R-ME). The Peace Alliance is excited to announce we have officially decided to include this piece of legislation as one of the items we are encouraging our network to support. Learn more...
ALERT:

The Youth PROMISE Act now has over 200 co-sponsors! In just the past six-weeks, there has been a rush of support that has brought on 119 new co-sponsors, including 16 Republicans.
How YOU can help
Two minute action:
The Peace Alliance - New Legislative Initiative - Annual Mothers' Day Action

The Youth PROMISE Act

The Youth PROMISE Act, introduced into the U.S. House by Bobby Scott (D-VA-03) and Congressman Mike Castle (R-DE) and in the Senate by Robert Casey (D-PA) and Olympia Snowe (R-ME), implements the best policy recommendations from crime policy makers, researchers, practitioners, analysts, and law enforcement officials from across the political spectrum concerning evidence and research-based strategies to reduce gang violence and crime. The Youth PROMISE Act is a bold plan for addressing youth violence in all sectors of society by delivering funding to programs on the ground effectively doing the work of youth violence prevention. Read this online link The Peace Alliance

Communicating with Congress: How Capitol Hill is Coping with the Surge in Citizen Advocacy

The Internet and e-mail have made it easier and cheaper than ever before for citizens to communicate with their Members of Congress. In 2004, Congress received 200 million communications, four times more than in 1995 -- the direct result of Internet-based communications. This increased citizen participation in the legislative process has had both positive and negative effects. Nearly 80% of congressional staff surveyed believe that the Internet has made it easier for constituents to become involved in public policy. However, neither the senders nor the receivers of congressional communications have learned how to use the new tools that the Internet has provided truly effectively. The suggestions at the following Link provide a means to effectively communicate with your Senators and Representative.


Project Overview - In 2001, CMF began work on this project to improve communications between citizens and Members of Congress.
How Capitol Hill is Coping with the Surge in Citizen Advocacy - A report on congressional staffs' views of constituent communications based on focus groups, interviews, and surveys of 350 House and Senate Staff in 200 offices.
Conference on Constituent Communications: Dispelling Myths and Discussing Solutions - A forum in which more than 200 experts and stakeholders from both sides came together to share perspectives and discuss possible solutions.
How the Internet Has Changed Citizen Engagement - A report on citizens' views on communicating with Congress based on nationwide telephone and online surveys of citizens.
Recommendations for Improving the Democratic Dialogue - This report is the culmination of CMF's nine years of research, outreach, and study, with recommendations for all stakeholders on how to improve communication between citizens and Congress.
Navigating the Rising Tide of Grassroots Advocacy - CMF offers educational
presentations for grassroots/advocacy organizations on the topic of how to effectively communicate with Congress.
06 April
RE: Upstate Gunman Kills 13 at Citizenship Class, front page, April 4.

Fourteen dead in Binghamton.
Eight dead in North Carolina.
Four police officers gunned down performing a routine traffic stop In Oakland.
And this morning, news of three police officers murdered while responding to a domestic violence call in Pittsburg.

When will our country wake up and realize we have a devastating national health crisis on our hands - and it's called violence. It would appear that Vice President Joseph Biden agrees. In response to the tragedy in New York he stated Americans must find a way to prevent this kind of bloodshed; "We've got to figure out a way to deal with this terrible, terrible violence". Well Mr. Vice President, there already is a way - and it's called the United States Department of Peace and Non-Violence, H.R. 808, currently in the House of Representatives with 67 cosponsors.

The sole purpose of the proposed department would be to prevent and reduce violence in all its forms by using programs and methods proven effective in transforming conflict before it erupts into violence.

How many more heartbreaking headlines do we need to see before we take a stand and demand that Congress take a serious look at H.R. 808? I ask you Mr. Biden - will you?

I just sent it and hope to hear back from them. Regardless of whether or not they print it, I think it might be in our campaign's best interest to use Vice President Biden's response as an opportunity for a coordinated national effort to contact his office. We should act swiftly if we do intend to do something. Welcome thoughts and a sound strategy.

In peace and with a wounded heart,
Kevin Fagan
Brooklyn, NY

Please send your own message today to Vice President Biden at http://www.whitehouse.gov/ContactUs
16 January 2009 - Thank you everyone, we did it!!!
Appoint Secretary of Peace in Department of Peace and Non-violence took 2nd place in the Change in America Competition at Change.org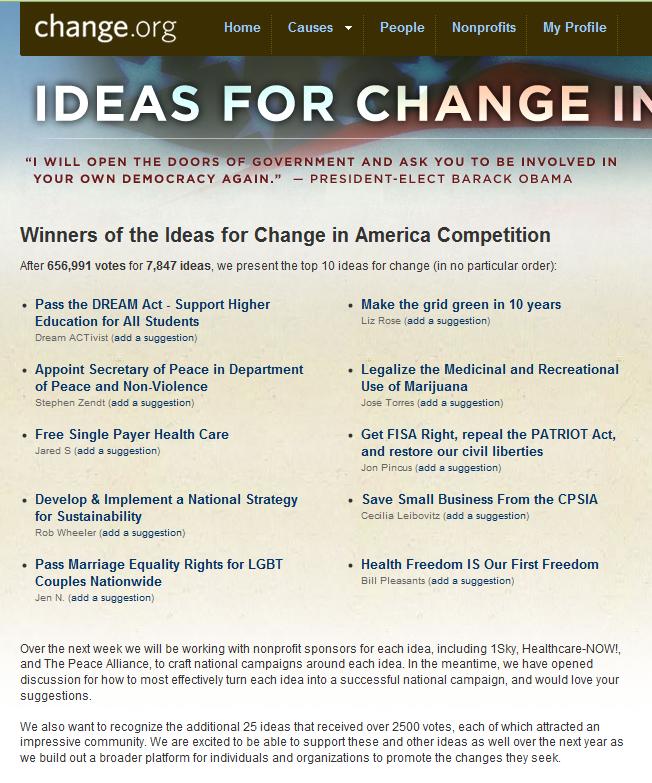 Visit The Department of Peace Blog at Change.org See Link.


We are lobbying our Massachusetts congressmen to support HR-808, the House Resolution 'To establish a Department of Peace and Nonviolence' filed by Representative Dennis Kucinich of Ohio. Download the pdf at frwebgate.


Co-sponsors 71 ( Search Bill Number on H.R.808, then select 'Link to Bill Status and Summary file', then select the 'Cosponsors' link )
---
Get DoP related news stories in your mail from Google. Set up a Google Alert at http://www.google.com/alerts. Set search item to "Department of Peace" and create the alert.

Announcements

Soldiers of Peace
Stories from 14 Countries around the World, Sunday, Dec 6th, 1:30 p.m.,
at First Parish in Concord, 20 Lexington Road
The Good Soldier follows the journeys of five combat veterans from different generations of American wars as they sign up, go into battle, and eventually change their minds about what it means to be a good soldier. [ See link ]
Kick-off Event for the World March for Peace and Nonviolence
The Peace Abbey, Sharon, MA - Oct 2, Friday
Please help us celebrate Gandhi's birthday by honoring the work of the Peace Abbey and those who have chosen nonviolence as a solution to conflict and a way of life. The evening celebration will include an original presentation: "Go Out in Joy, Led Forth in Peace." This will be followed by a candle lighting ceremony to mark the first day of the World March for Peace and Nonviolence. We request that all in attendance bring the "light of nonviolence" back to their communities and continue to raise awareness about the World March. During the 90 days of the March, we invite people to come and light a candle and sign the World March journal in support of the goals of peace, nonviolence and nuclear disarmament. Sign-up sheets will be available Friday night and Saturday morning, as well as by email at jan.krause-at-verizon.net. [ See October Calendar ].
Walk This Way -- For Peace
On a pleasant evening in downtown Austin last Saturday, Sept. 19, about 80 Southwestern students and community members gathered to participate in the third annual Walk for Peace. At 5:30 p.m. participants holding signs and chanting encouraging words of peace started the mile long walk from the state capitol building on Congress Avenue, arriving at Austin City Hall on Cesar Chavez Street at 6 p.m. Once at City Hall, several speakers talked to participants about various forms of peace and protested against violence of all kinds. The Hunters and Gatherers, a local Austin band that has played on occasion at the Kappa Sigma House, concluded the event by putting on a show for the walkers. [ See link ].
A Fathers' Day Festival for Peace Awareness
at the Acton Jazz Cafe, from Noon to 8 pm
Sunday, June 21, 2009 - Acton, MA

[ See Flyer ].
Please visit Ana Campos' great DOP Florida website on MYSPACE www.myspace.com/DepartmentofPeaceflorida and
enjoy a great celebration of a dynamic group working for peace and nonviolence in America today.
Thank You.

San Francisco Wants US Department of Peace
17 Mar 2007 - By unanimous vote the San Francisco Board of Supervisors endorses legislation to establish a U.S. Department of Peace and Nonviolence
San Francisco , CA. - San Francisco joined the Bay Area cities of Berkeley, Oakland, Palo Alto and San Jose yesterday when its Board of Supervisors unanimously approved a resolution endorsing creation of a cabinet-level U.S. Department of Peace and Nonviolence. By doing so, this sixth-largest metropolitan area in the country (encompassing some 5.4 million residents) joined the ranks of 20 cities voicing support for HR 808, legislation that focuses on innovative and proactive approaches to violence prevention.

"We have to remind elected officials of all parties that peace is patriotic...." said HR 808 co-sponsor Rep. Barbara Lee after the bill was reintroduced in Congress on February 5 th. "If we had a Department of Peace, we'd be dealing in a real way with gun violence, and domestic violence, child abuse, elder abuse, and all the awful violence that's taking place because of the cutbacks of funding and disinvestment in the American people. In the words of the great warrior for peace Dr. Martin Luther King, peace is not just the absence of tension, it is the presence of justice. A Department of Peace would embody that ideal." [ Read More ]
---

News Articles

Anti-Violence Advisor 'Thrills' Allies in Field
Lynn Rosenthal is being asked to counsel Obama and Biden on curbing violence against women. While some yawned at news of another White House advisor without a budget, she is stirring hope in a hard time for domestic shelters.
See [ entire article ]
---
Washington Watch
H.R. 808, The Department of Peace Act

Bill would establish a Department of Peace
Read the Bill and See what People are Saying.
See [ entire article ]
---
Give U.S. Department of Peace a chance
Posted on Sun, Apr. 26, 2009
By LEWIS DIUGUID
The Kansas City Star

Barack Obama's election as president has breathed life into efforts for a U.S. Department of Peace and Nonviolence.

Rep. Dennis Kucinich first proposed the Cabinet-level post in July 2001 — two months before the Sept. 11, 2001, terrorist attack. He had seen too much violence worldwide and wanted to create a platform in the executive branch to promote alternative ways to resolve conflicts.

People too quickly turn to violence and war. Kucinich says a department of peace would give people better tools.

"Peace is not some airy, fairy notion," said Kucinich, an Ohio Democrat and past presidential candidate whose bill embodies the teachings of Martin Luther King Jr., Mohandas Gandhi and Jesus Christ. "It's an active presence of love, mutuality and understanding."

The bill had no chance of advancing when George W. Bush was president, Republicans controlled Congress, and the U.S. was newly embroiled in wars in Afghanistan and Iraq. The wars drag on, along with billions of dollars wasted on violence.

Obama gives people long-awaited hope that this country can do better, said John Parker, media coordinator with the Peace Alliance in Washington, D.C. He sees a resurgence of interest in Peace Alliance work on Capitol Hill.

Parker said the peace department would have a $10 billion budget. About 85 percent of the money would go to reduce violence in the United States, which annually costs $64.7 billion in lost productivity.

Wars in the 20th century claimed more than 100 million lives, an incredible waste of human talent and potential.

Kucinich said, "Peace is practical; violence is quite impractical." He pointed to gun violence and a series of mass shootings in workplaces, homes and even churches.

People are unable to settle differences peacefully. "This is a very human condition, but it doesn't mean it needs to stay that way," Kucinich said.

A peace department would give people new options — particularly with families under so much financial and social stress in today's deteriorating economy.

"We know that violence is learned," Kucinich said. "So is nonviolence and peace. You can teach a new, effective approach to dealing with conflict."

Steve Iliff, dean of the school of professional studies at Avila University, teaches peace classes and conflict resolution. His students are amazed by lessons of peace and nonviolence, lessons they never knew existed.

A department of peace would work with schools and other Cabinet departments. The legislation would include developing drug and alcohol treatment policies, pushing crime prevention and community policing, working to reduce media violence, studying the effects of war on children, embracing conservation and sustainability, and promoting diversity and tolerance.

The department would include the creation of a multinational nonviolent peace force and seek a reduction of nuclear arms and other weapons.

Kucinich said: "Violence has enormous social costs. A department of peace actually saves money. It's kind of a preventative approach in health care. We have the ability to make choices in our lives. We need a wider range of choices."

The challenge is to get people to see that peace efforts are not superfluous.

Ira Harritt, program coordinator with the American Friends Service Committee locally, said peace had to be accompanied by people having justice and opportunity. That would enable them to thrive.

Kucinich sees a department of peace as a step forward in humanity's evolution.

"The health of our society requires government as an institution to evolve to meet the changing needs of society," Kucinich said. "This is a proposal that promotes an idea whose time has come.

"It's really about helping us live a more joyful life and a life that is less burdened by violence."

Imagine that. View the original article.

Lewis W. Diuguid is a member of The Star's Editorial Board. To reach him, call 816-234-4723 or send e-mail to Ldiuguid@kcstar.com.
How Could Anyone...Not Give Peace a Chance?
What is the cabinet level U.S. Department of Peace and Nonviolence all about?
(note: this is a two-page .doc file)
Read the Bill for the 110th Congress - HR 808 at The Peace Alliance web site
Dennis Kucinich speaks for Dept. of Peace in Washington DC - Video

The Peace Alliance - Campaign to establish a U.S. Department of Peace and Nonviolence
The problem of war has a solution: giving peace a deadline. Learn about our Peace in Five Years (P:5Y) campaign for peace, our overall strategy, and the six-step process we've developed for realizing peace.
The Shift from Domination to Partnership
Riane Eisler, author of 'The Real Wealth of Nations', spoke at the 2009 Department of Peace Campaign National Conference. The author calls for a Nordic viewpoint on our economic model. The salient points in her Conference message are available at this video link. Her Conference presentation is available here.
Designing a National Peace Academy
We know how to build peace; we just have to do it, at every level, from the staggeringly huge to the infinitely minute.

"The day will come," said the extraordinary priest-scientist Pierre Teilhard de Chardin, "when, after harnessing space, the winds, the tides, gravitation, we shall harness for God the energies of love. And, on that day, for the second time in the history of the world, man will have discovered fire."

REVERSING THE CYCLE OF VIOLENCE By Robert C. Koehler, Tribune Media Services

First-ever U.S. National Peace Academy Launched - The goal of the National Peace Academy is to support and advance a sustainable culture of peace through research, education, and real-world application.

Areas of specialized interest and practice ranged from domestic violence and spousal abuse to more global humanitarian issues, such as the Israeli-Palestinian conflict, genocides in Darfur and Rwanda, and violence-related famines and health crises in conflict-riddled regions throughout the world. See NPA Announcement (pdf)
Department of Peace - Opinion
CellularDefenseTeam Blog
The Peace Alliance and the Student Peace Alliance organization supports the creation of a U.S. Department of Peace and Non-violence. It is an independent grassroots politacal movement that operates autonomously. See [ entire article ]
---
Department of Peace Bill
Business Article by Peggy Campbell, 14 Feb 2009, TheLedger.com
The legislation to establish a U.S. Department of Peace was reintroduced into the U.S. House of Representatives Feb. 3 by Congressman Dennis Kucinich, D-Ohio, and 62 congressional co-sponsors. Two additional co-sponsors signed on after introduction, bringing the total number of supporters to 65. It was assigned the same bill number as in the previous Congress: HR 808.

This bill has some small-but-exciting changes. For example, it calls for $10 billion to fund the department, with 85 percent of funds designated to reduce and prevent violence here in the United States. See [ entire article ]
---
U.S. Campaign for a Department of Peace
Arn Spector, 21 December 2008, OpEdNews article
Thanks for publishing this article! The very first bill to create a Department of Peace was introduced in 1935 by Senator Neely of Virgina and has been introduced in both the Senate and the House multiple times over the past 80 years. Support for it has been increasing ever since. It was then introduced again in 2001 by Congressman Kucinich just one month before 9-11. There is a rather large and expanding movement supporting it's passage. The difference between 1935 and now, is the instant availabilty to take action online and in person. Support for Senator Neely's original bill is now benefiting from text messaging, e-faxing letter to Congress, national actions and volunteers en masse signing petitions, writing letter and blogs! I bet he would be amazed! The Peace Alliance is a nonpartisan, nonprofit supporting the establishment of a U.S. Department of Peace and Nonviolence with the passage of a federal bill currently in Congress (HR-808). In my opinion, they have been instrumental in raising public and politician awareness of not only the federal bill in Congress but the need to treat preventing violence at it's root causes. Bandaids come off and it seems to me that's all we use to treat the rampant epidemic of violence in the world and our communities.

As you kindly mentioned, the website www.Change.org is holding an online event through Jan 15th calling for the "Ideas For Change in America." [ Please add your vote via the link in Actions above - ed.]

The idea to "Appoint Secretary of Peace in Department of Peace and Nonviolence" is in the category of other and currently in 1st place.

The idea is in second place out of 4,500 ideas.

The support and the hunger for true change is here.

I really appreciate your attention to the need for violence prevention

With Appreciation,
Ana Campos
South Florida State Organizer
US Department of Peace and Nonviolence Campaign
[ See Ana Spector's entire article ]
---
The Peace Alliance Announces Creation of Educational Institute
by Patty Kuderer, National Director of Communications, 16 Dec 2008, The Peace Alliance press@thepeacealliance.org
The Peace Alliance Educational Institute to Focus on Violence Prevention Education :

WASHINGTON - December 16 - The Peace Alliance, the nonprofit, nonpartisan organization leading the growing grassroots movement active in all 50 states for creation of a U.S. Department of Peace, announced last week it is in the process of creating The Peace Alliance Educational Institute, a 501(c)3 nonprofit organization focusing on violence prevention education and research.

We chose the name 'The Peace Alliance Educational Institute' because we feel it most accurately describes both the tone and nature of the work we intend to do through the new organization, said Peace Alliance Executive Director Lynn McMullen. 'Institute' demonstrates the serious, practical, pragmatic and scientifically-based nature of effective peacebuilding See [ entire article ]
---
Obama 1 Reality check on the next commander-in-chief
by Anthony Peyton Porter, date, CHICO News & Review, newsreview.com
....Obama's popularity in my kitchen slipped recently when he started picking the Clinton gang and other conventional suits to work for him. It seems a counterintuitive way to achieve change. Those polled are hopeful that he'll find somebody who actually thinks differently soon and have adopted a wait-and-see posture.....

I don't expect Barack Obama to kill the Federal Reserve system or the CIA or to slash military spending or even revoke any corporate charters, but I think we've got a shot at universal health care, and maybe sooner or later a Department of Peace, or at least an innovative appointment or two. A constitutional convention would clear up a lot of things, but the thought of rethinking everything from the ground up scares some people, and my guess is that's the last thing Obama wants to do. That's my blah-blah See [ entire article ]
---
War and Peace Come Together on a Rainy Day
by Mike Billington, 13 Dec 2008, Charlotte Sun and Weekly Herald
We like to think we humans are members of a pretty sophisticated tribe. We really aren't. There are people out there, loose in the world, who think murder is an acceptable form of political persuasion. Sometimes, that means we have to send young men and women into battle.

But we also need Peter Duisberg and the men and women who, like him, are dedicated to the idea that we can, as humans, be better than our club-wielding ancestors. They believe that there are better ways to end disputes than by sending suicide bombers into malls and battle fleets to sea.

Warrior and war protester alike, they each have the courage it takes to stand up and do the right thing, even if they don't always agree what that right thing is. See [ entire article ]
---
Set up Peace Department
by Sister Gabriella Crowley 28 Nov 2008, ArgusLeader.com
There is a movement in the United States to establish a Department of Peace. This is not a new concept. Throughout the history of this country, there have been attempts to create a Department of Peace. Many people believe this is an attainable goal.

We can define peace as being a measure of the ability to address conflict before it escalates into violence. As a nation we are unskilled in this area. The answer is to educate and provide tools to address the conflict at its root causes. This can be accomplished by educating Americans on the prevalence of violence and showing that we can impact and change it. See [ entire article ]
---
Students to choose 'asks' for Obama
by Nashrah Rahman, Staff writer, 09 Dec 2008, The Justice
Brandeis Student Peace Alliance:

SPA wants the new administration to establish a cabinet-level U.S. Department of Peace, make the prevention and reduction of youth violence a priority in the federal budget and ensure nonviolent and conflict resolution to the U.S. military and representatives abroad. See [ entire article ]
---
Barbara Lee - "Renegade for Peace & Justice"
by By TERRI SCHLICHENMEYER, 09 Dec 2008, The Daily Sound
As a Congresswoman, she's introduced bills to help people with HIV and AIDS, and she's championed the rights of women and children. And in the halls of Congress, Lee is known for standing strong in her beliefs, including one that says we need a Department of Peace in Washington. See [ entire article ]
---



West Linn students lobby City Council to back a Department of Peace


by Yuxing Zheng, The Oregonian, 19 Nov 2008

They weren't old enough to vote in this month's election, but that didn't stop three West Linn High School seniors from making an impact in local government.

Lucas Pinelli, Chelsea Callas and Kirk Larsen successfully lobbied the West Linn City Council to pass a resolution last week calling on the federal government to create a Cabinet-level Department of Peace and Nonviolence to promote nonviolent conflict resolution domestically and internationally.

The three are among a handful of high school students who have pushed for local governments to adopt resolutions in support of House Bill 808. The bill calls for peace-oriented offices, including peace education and training, arms control and disarmament, and human and economic rights. [ read more ]
United States Department of Peace
From Wikipedia, the free encyclopedia
The United States Department of Peace (or DoP) is a proposed cabinet-level department of the executive branch of the U.S. government. The original idea of a Peace Department in the United States dates back to the administration of George Washington, but has been most recently reinitiated by Rep. Dennis Kucinich beginning in 2001 and formed a part of Kucinich's presidential campaign platform in 2004. A bill for this purpose, HR 3760, was previously introduced in the House of Representatives on September 14, 2005. It has most recently been re-introduced via HR 808 on February 5, 2007.

The movement in support of a U.S. Department of Peace is also an independent grassroots political movement that operates autonomously and that has continued to gain momentum after Kucinich's bid in the 2004 presidential election. The ongoing movement is co-led by Kucinich and the author and popular motivational speaker Marianne Williamson. This movement actively lobbies for the endorsements of congressional leaders. It has local grassroot chapters in over 200 congressional districts.nbsp; [ read more]
---
May 6, 2006 Moms, peace and apple pie, Houston Chronicle

Julis Ward Howe, the founder of Mother's Day, was also a peace activist. To honor Howe's passion and activism, as well as mothers everywhere, many Americans from all across the country will take part in actions on May 12 to support the establishment of a U.S. cabinet-level department of peace and nonviolence.

On the Friday before Mother's Day, we want to let our members of Congress know that peace wants a piece of the pie! All across the nation, people will be taking pies to their congressional representatives' office in a request for a very small percentage of the U.S. national budget (less than 1 percent) to be spent on proven, effective programs to reduce violence.

This ground-breaking legislation would address both domestic and international issues. More than 60 percent of the money would be spent in the United States on programs that have proven to decrease violence and build stronger communities. Innovative programs around the country are paving the way in reducing recidivism rates, domestic violence, child abuse and gang-related violence.

The legislation will provide hope and purpose to our generation, and will answer the desire for peace. It is designed to systematically apply the power of peace to eradicating the root causes of violence. Mothers everywhere — and their families — will benefit.

For more information, readers can visit the national Web site at www.dopcampaign.org. [Article no longer available]
---
2 Mile-Long Living Memorial Honors U.S. Soldiers Killed in Iraq
December 01, 2005 by Gisela Sommer, Epoch Times San Diego Staff
SAN DIEGO — Hundreds of people dressed in black showed up in Carlsbad, California the day after Thanksgiving to participate in a peaceful living art memorial to fallen U.S. soldiers. Each of the demonstrators represented one of the 2,108 American troops who have fallen in the war in Iraq, and formed a line more than 2 miles long.

...The event was organized by local resident Jeeni Criscenzo as a peaceful, respectful way to honor the loss of over 2,000 American lives. Criscenzo is an advocate for the establishment of a Department of Peace. She is also running for U.S. Congress in 2006 to represent the 49th District. [read more]
---
(New Articles added throughout the day. Check back often and be sure to hit your refresh button to see the latest updates).
---
---
"How Could Anyone"
by Libby Roderick


"How could anyone ever tell you you were anything less than beautiful?

"How could anyone ever tell you you were less than whole?

"How could anyone fail to notice that your loving is a miracle?

"How deeply you're connected to my soul." .

---
source
"How Could Anyone" perfectly mirrors the goal of The Peace Alliance, which is spearheading the lobbying effort behind the legislation, said Dot Maver, alliance executive director. Maver also used the song when she ran the Democratic presidential campaign of Ohio Rep. Dennis Kucinich, who introduced the same legislation in the U.S. House seeking to set up a peace department.

"It speaks to our essential humanity," Maver said. "It calls for us to be kind, compassionate, wise and it recognizes our interconnectedness."
---
This website reports information from sources that we believe are accurate.
---
---